Most professionals you meet are on LinkedIn. It is the place to be to manage your profile, connect and network professionally. Typically, your profile on LinkedIn includes information about you, your previous jobs, your experiences, your education etc… While this raises your visibility, it says nothing about your business.
Spend a minute thinking about the number of people that view your profile on a monthly basis.
In order for them to find more information about your business, they must click on your company logo to find your business page or your website. Why not save them the effort and provide them with all the necessary information on your LinkedIn profile?
In this blog post, I discuss how to use your LinkedIn profile to generate more leads and raise awareness about your business.
1. Treat your LinkedIn profile as a landing page for your business

The first step is to treat your profile as a landing page for your business. By doing so, you will increase brand awareness and visibility.
The next time you connect with someone, and they check out your profile, within seconds they should understand what your business does for them, and why they should connect with you.
Make sure you include all the essential information you want people to know about your business. Include your value proposition on your profile.
2. Include a cover photo

Besides including a profile picture, include a cover photo. It takes up about 30% of your profile. It is the first thing you see when you click on someone's profile.
Use a free tool, like Canva to build it. Make sure it includes more than just your logo. Use it as an opportunity to really help your target audience understand your business.
3. Change your headline
Step three, change your headline. Typically, peoples headline on LinkedIn is their job title i.e. Senior Sales Manager.
In order to stand out, change it something you really help customers do i.e. "Partner at GrowForce – We Automate Acquisition Processes for Sales, Marketing and Talent Acquisition Professionals.
" This way, whenever you connect with someone or share something on LinkedIn – people are reminded of how your business can help them.
4. Include a summary

People either try to avoid writing this or use this space to talk about themselves. Don't be lazy and write a summary. Make sure it explains information about who you are, and how your business can help them.
5. Include media links

Step five, include media links, either link to your latest blogs, your website, new products, press releases, new features etc..
Make it easy for the person viewing your profile to find more information about your business. The less effort, the better for your business.
6. Include a link to schedule a meeting
Help them reach out to you. With all that information displayed on your profile, you need to include a CTA. Add a media link to your online calendar, so people interested can book a meeting with you. You use Plann3r to create the link.
Once you're done optimizing your LinkedIn profile, start automating your lead generation process. To find out more about how to get started, read our blog post 5 Steps In Your Sales Process You Can Start Automating.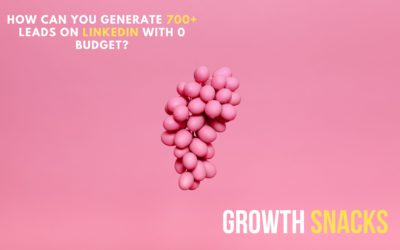 This week on Growth Snacks How we generated 700+ leads on LinkedIn with zero budget. The secret all top brands use to win: Dynamic Creative. Social Media Trends for 2020 and Beyond. The 88 Books...
read more