First things first. Is Messenger marketing really worth it? Yes. Why? I don't know, how does an 86% open rate and a 56% CTR sound?
There's just one catch. Immediacy is key, and that doesn't go well with complex products. B2B products will also be generally harder to sell using Messenger. But if you're in FMCG, CPG, entertainment, or other mass-market industries, then you should start building your Messenger or chatbot strategy yesterday.
And we can guarantee your competitors are not doing what we're describing here yet, so you can even claim some of that First Movers Advantage that's still left in Messenger marketing.
So we're not going to show you how to build your chatbot, because that's the easy part. We're going to show you 9 secret ingredients that will make your chatbot go from a Sloppy Joe to a Big Mac.
Here are some of the chatbot best practices for a Messenger strategy that generates more than vanity metrics, boosts your audience and increases revenue in the long run. All of that using a simple Messenger chatbot, Click to Messenger ads and leveraging the data they generate. 
Disclaimer: This post is a recipe. Below is your ingredients list, but like any other chef you'll also need some tools to experiment with these practices: 
Facebook Business Manager for your company
#1 Start by defining your value proposition
Awesome – you're building your first Messenger bot. If you've established your goals for your campaign, you're already off to a great start. But what's in it for the user? Why should they engage with your bot?
Now you need to turn that into a value for the customer. The value can be a lead magnet, a discount, a gift, a coupon, even stickers. Or it could be a fun quiz! Find the right value you want to provide and make sure it's delivered to the user immediately.

Want some more inspiration on value propositions? We've got you covered.

#2 Map out your Chatbot in a flowchart
Aah, I remember the early days, when I built my first ManyChat bot. It was a hot mess. 
Don't be like me.

Chatbots are complex products. So define your ideal endpoint, your opening message, and then map the journey in between, all in a nice flowchart with drop-off points and conditional splits. We recommend Draw.io for this.
Don't overdo it though, this is just your prep work. You're preparing yourself for the real work in ManyChat.
Here are some of the best practices to create conversational interfaces:
Try to write a conversational chatbot flow, talk the language of your audience.
Maintain natural language throughout the conversation.
If you're going to create customer service or customer support bot make sure to add a human touch.
Don't make your chatbot too complicated.
Don't present too many options.
Bonus: it's less than ideal leaving your coworkers to find out what your fussy chatbot actually does after it's published, let alone your boss (or your client). Create your flowchart beforehand, get everyone to sign off on it, then start building in ManyChat.
(This might be the most vital practice among the 9 chatbot best practices)
#3 Keep it snappy.
What makes Facebook Messenger (or any chatbot messenger) fun is its immediacy and ease of use. Don't bombard your audience with a tediously long, in-depth conversation. Make it fluid and crisp with quick replies.
The best user experience = The quickest and funniest bot.
Get to the point of your conversation within 5 clicks. Research shows there's a significant drop in users when bots take more.
#4 Track everything to understand how your chatbot performs.
If you're sending URLs, make sure to use UTM tags (you can even set them up to include a user's Facebook PSID).
Also track every click in the message, set up an integration between ManyChat and your CRM or a Google Sheet (check out Zapier!) to keep track of your results and audience. Even if Facebook decides to update its Messenger rules yet again or if you decide to stop using ManyChat one day.
Hey, why don't you join the free 1-hour live webinar to learn our exclusive chatbot strategy?
We'll share GrowForce case studies form B2B as well as B2W campaigns for inspiration and share our proven framework to help you set up your next chatbot campaign.
You'll get instant X10 ROI for your time 1-hour time investment.
#5 Follow-up with Conditional messaging
Personalization works. Bud Light launched a chatbot with the goal of driving demand and purchase of Bud Light's team cans on the game day throughout the NFL season. A personalized data model and chatbot powered the ordering and delivery of team cans every game day during the NFL season. 
The Bud Light chatbot acted as a utility to remind fans that it was game time, and to order Bud Light before the game. They saw an 83 percent engagement rate with personalization!
Isn't that a great user experience? You see chatbots are more than boring customer support assistants.
Moreover, if you're sending coupon codes, you could send personalized messages after validation. Even when coupons haven't been validated, you can follow up with a message to remind them to use their coupon before it expires.  You have so many options to keep the conversation going on.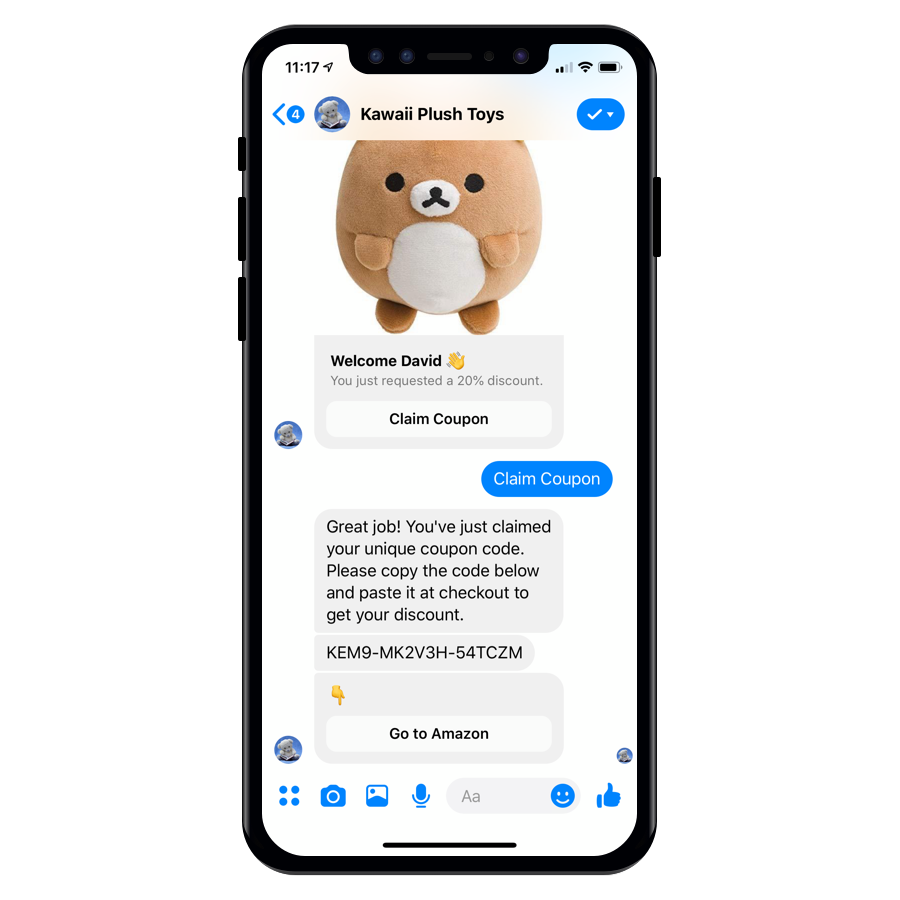 #6 Build a long-term audience: broadcasts (ManyChat) + tags + custom fields
Messenger marketing is really awesome, but there's one catch:
Facebook's 24+1 rule. That means that after 24 hours have passed since your last interaction with a user, you can't send them commercial messages anymore, except during the day immediately after those first 24 hours.
Any commercial message beyond that point has to be a Sponsored Message.
There's a great workaround though: you can still maintain the conversation through broadcasts. For these to work well, though, you'll want to tag and segment your users based on the chatbots they subscribed through, interests, or more.
ManyChat doesn't do this automatically, and there is almost no way of splitting up your user base to send them relevant messages if you don't set up your tags and lists for success from the start.
#7 Set it up with some great Click to Messenger ads
Though it's a step in the right direction, ManyChat's native Facebook Ad Builder isn't recommended to build strong ad campaigns: it only lets you create one single ad.
Of course, you'll want to experiment with carousel, image and video versions, different versions of your copy etc. So instead, build your campaign in Ads Manager, using the Messenger conversion goal. (Of, if you like, AdEspresso is a great tool for Facebook ads as well.)
When setting up your ad, just insert the JSON code you generated in your ManyChat Growth Tool Builder. 
#8 Leverage PSIDs
Is it time for the magic sauce yet? Yes, yes, in fact, it is time for the magic sauce.

When users interact with your Messenger bot, they are tagged with a Page-Scoped ID. This isn't their App-Scoped ID, in case you also have a Facebook app, and it's not identical to their personal user ID either.
But, and here's the beauty, they are still unique to the user and allow you to retarget them forever. And all you need to bulk export them is a ManyChat Pro account.
PSIDs are the stuff of any performance marketer's dreams.
There is no better data source for retargeting than these babies, because they are matched exactly to your audience's profile, whereas website visitors might not always be your ideal target audience. 
Moreover, if you set up a Lookalike Audience based on the PSIDs you generated with your high-performing Messenger bot ads, you would be setting up targeting to a whole new audience of exactly the most engaging personas. The effect on your CPC and CAC can only be tremendously positive. 
#9 Don't overengineer your chatbot (learn from early users and improve continuously)
Your chatbot is a piece of artificial intelligence, that's about to start engaging with real people. Work lean, and accept that a lot of your assumptions will be wrong. Set your bot up for success, but realize that it's important to fail, learn and tweak it.
You basically want your first version of your Messenger bot to break so that you know what to fix. By far the superior situation to overengineering a huge bot that nobody uses or finishes.
This also means that your chatbot is never finished. It's crucial that you always keep learning from your users and your progress.
It's time for you to experiment with the 9 chatbot best practices.
Start your own journey ASAP while the learnings are fresh. The most critical part is to start with your own chatbot and get hands-on experience.
After all, these are our chatbot best practices and might perfectly work for you. But as you progress with your chatbot, you can create a list of new best practices by your own experience.
If you ever need help in your journey, remember we're a certified Manychat Agency Partner. You can always schedule a call from the link below.