The only goal of this article is to arm you with the wildest growth hacking examples and get you inspired so you can create your own growth hacking strategy.
You'll see some of the most popular hacking techniques used by famous brands. But you'll also find little known strategies that you can't find anywhere else.
We've done a lot of research to write this unique content piece so we could put something actionable and different on the table. Enjoy the ride!  
Note: If you're not sure about what growth hacking or a growth hacker is, you can check these articles before you start:
What is growth marketing and why is it so effective?
Growth hacking vs traditional marketing – 8 major differences.
Now let's get you inspired and call the hacking muses:
19 proven growth hacking techniques 
#1 Puma
The term growth hacking wasn't even invented when Puma showed its marketing genius in the 1970 World Cup finals.
They asked Pele to tie his shoes before the kickoff and Pele did it. As expected, the cameras focused on Pele and his Puma's and made people realize the world's best footballer wore a Puma.
According to the book "Three Stripes Versus Puma", Pele was paid $120,000 to crouch and lace his shoes. This might be the best case of influencer marketing until this day.
Takeaway: Ask yourself who, when, where.
Who can introduce your product to your target audience best? When is the right time and which online or offline platform can you use to get maximum exposure?
#2 Dollar Shave Club
Picking a fight with a strong argument is a deadly growth hacking strategy. Dollar Shave Club used video marketing to declare war to razor industry giants by asking these simple questions:
– Do you like spending $20 a month on a brand named razor?
– Do you think your razor needs a vibrating handle and flashlight?
And Mike, the founder, gives the solution to his audience in this witty video.
The video went viral and got 26M views. Please watch if you're not one of the 26M people because this is the funniest among 19 growth hacking examples.
Takeaway: Think of a problem in your industry and, use content marketing, show how your product could solve this issue. Especially video marketing is an effective way to show your brand personality and deliver your message.
You can learn everything you need to start with video marketing by reading this eBook
3# Dropbox
Dropbox is known for its creative onboarding process and referral program.
The marketing strategy is quite simple. The product itself offers storage space in the cloud and they reward people with more space by gamifying the onboarding process.
Just like in the story Hansel & Gretel, they embellish this hard process by offering little treats. And the main course was their referral program where they offered 500MB free extra storage.
It works like this. You refer Dropbox to a friend, she signs up and you both get 500MB extra storage. 1 stone, 2 birds.
So the cost of customer acquisition for Dropbox is 500MB. This is definitely one of the nastiest growth hacking techniques.
Takeaway: One, If you can give extra value, you can make the onboarding process fun and rewarding for your users. Two, design a double sided referral program. Offer something to the referrer and the referee. 
#4 Unsplash
Unsplash has a corner named "Collections". They ask influencers (mostly micro-influencers) and invite them to pick their favorite photos and create a collection.
Then Unsplash promotes the collection on the website, newsletter and social media platforms. Flattering right? Yes, at least that's what the influencers think.
The chosen influencers will often share their collections with their followers. And Unsplash gets free exposure + tons of user-generated content.
Takeaway: People like to be praised and be the center of attention. You can benefit from other people's audiences.
#5 Airbnb
Airbnb leeched its competitor Craigslist's blood and used them as a distribution channel for a long time. Their growth hacking strategy consisted of two parts.
One
They encourage their audience to cross-post their listing on Craigslist with a link back to their Airbnb profile.
And they made cross-posting as easy as one-click for their users. This way, hosts increased their chance to get rented and Airbnb got new users. Eventually, it got tons of free traffic and generated thousands of users.
Two
Next, they contacted existing Craigslist hosts and asked them to sign up on Airbnb.
These two strategies helped them to grow their customer base and traffic without spending a dime.
It worked because it was a win-win.
Another one from Airbnb
You know how important the pictures are when it comes to renting or buying a house. The founders of Airbnb knew this too.
To grow bigger, they started to photograph their hosts' apartments. After the platform grew big enough, they hired an army of pro photographers to make their customers happy. And make some more $.
Takeaways:
Your target audience is already hanging out somewhere on the internet, find them and think of new ways to transform them into your customers. Don't expect value if you don't provide value.
#6 Hubspot
How strong is your website? It is hard to resist this question if you have an online presence.
Hubspot created a free tool that measures your site's performance by grading key factors like SEO, mobile performance and so on. Then it gives you tips to optimize your site.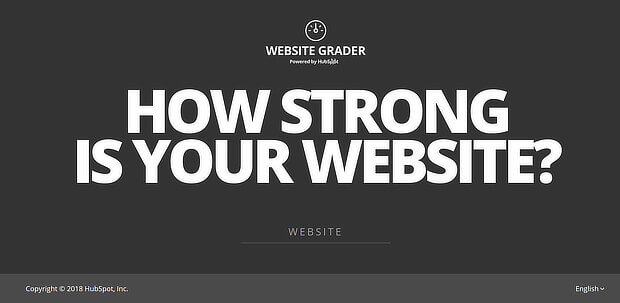 People shared this tool with each other, it got many backlinks and quite a lot of attention on social media platforms as well.
No surprise, Hubspot grew its email list and grew to 15.000 users with the help of this one tool.
Takeaway: Creating free tools like this one is one of  my favourite growth hacking techniques. Many brands create little add-ons, apps and tools that solve a problem for their target audience. Afterwards they launch it on platforms like Product Hunt to get free exposure.
#7 Vitaly Uncensored
This is one of the most unconventional growth hacking techniques and it's dangerous too.
Vitaly Uncensored is a strange adult jokes platform. And people barely knew they existed until the Champions League final in 2019.
Until Kinsey Wolanski (co-founder and girlfriend of Vitaly) caused an international stir after running on to the pitch with a swimsuit written "Vitaly Uncensored" all over.
Naturally, people searched for the term and social media platforms like twitter flooded with reactions. Here is the peak of the search term volume  around the time of the champions league finale. 
Vitaly Uncensored now has more than 32 million registered users and has raked in up to £3m in advertising as a result.  And she was fined just £13,000.
Takeaway: A growth hacker doesn't always follow the rules. You can sometimes break them as long as it is bringing you growth.
#8 GrowForce
This one is from us.
We've tested this growth hacking strategy eight times until this day and it generated over 3000 prospects.
In short, we wrote eBooks that provide value to our customers and launched them as products with a solid content marketing strategy.
We've shot videos about our eBooks and the only way to get those eBooks was to comment under the LinkedIn post. Eventually, we got thousands of engagements, comments and emails.
In long? We explained everything in this guide.
It's full of actionable real-life examples and results, we wrote it with 100% transparency. 
Get your copy now and enjoy it. We even used the same strategy with this guide and it worked again.
9# Ahrefs
 Ahrefs, in my opinion, can win the gold medal in growth hacking examples Olympics.
They're the most popular SEO tool and don't use Google Analytics. Neither do they use the  Facebook Pixel. Instead, they hacked the most prominent SEO conference (Brighton SEO) with a 10 cent coffee cup.
Imagine how much attraction they had at the conference. Everybody was instantly aware of the existence of Ahrefs; those cups worked as an ice-breaker to open new conversations and possibilities.
Furthermore, many people shared this in their social circle, both word-of-mouth marketing and social media sharing.
Takeaway: Make a list of conferences and offline events that you can join. And think of how you can direct the conversation to your brand.
10# Gmail
If you were an early adopter of Gmail, you'd remember this one. You could only create a Gmail account if a friend invited you.
And every referrer had a limited amount of invites, which made it more exclusive and triggered the fear of missing out (FOMO) marketing technique.
It was simultaneously so exclusive and so viral, some people auctioned Gmail invites on eBay. It worked well because Gmail was offering better features and quality of service compared to the alternatives in the market. 
Takeaway: Knowing behavioral psychology is a great asset for a growth hacker. Even a little psychological trick can be the foundation of a new growth hacking strategy.
#11 Please don't tell
Gmail used exclusivity and FOMO triggers in their digital marketing strategy. What if you want to do it offline?
(This is one of my favorite offline growth hacking examples)
Crif Dogs is a hip place known for its innovative hot dogs. There is a strange vintage phone booth corner in the restaurant.
One day, a person walked in and used the rotary dial phone and CLICK, a secret passage door opened to a cozy bar. And the bartender treated him with a tasty cocktail and gave a card to this lucky person on the card written: "Please Don't Tell".
As you may relate, that person has felt like he discovered the most astounding secret in the world. He then  talked about this experience to all of his friends and it caused a social chain reaction.
This word-of-mouth marketing strategy transformed this place into the busiest bar in New York City. So busy it's almost impossible to make a reservation.
Takeaway: If you can make someone feel special with a big secret, you can create a community of privileged brand advocates.
#12 Zynga
You must remember the era of FarmVille, MafiaWars or Zynga poker. These were the Facebook games that made addicts out of our friends, parents and loved ones.
How?
You know the classic pricing decoy: Small $3, medium $ 6.50 and large $7.
Zynga re-engineered this by offering three choices to the user: grind, spam or pay. Well, since people didn't want to pay to continue playing games, they started to terrorize their friends by spamming them with invitations.
This had a huge viral effect but after a while, Facebook put an end to this spamstorm.
Takeaway: Try to approach popular marketing tactics from a different angle to create your own growth strategies. 
 #13 Hotmail
Hotmail's growth hacking strategy is super simple and many companies like Apple copy-pasted it.
Hotmail placed a default signature line to every outgoing email and invited receivers to create a free account. Afterward, Apple and others used the same e-mail marketing strategy to spread awareness and grow their customer base.
14# CD Baby
"Your order is on the way" you probably have received an email similar to this one. But I don't think you ever received something like what Derek Sivers wrote:
Your CDs have been gently taken from our CD Baby shelves with sterilized contamination-free gloves and placed onto a satin pillow.
A team of 50 employees inspected your CDs and polished them to make sure they were in the best possible condition before mailing.
Our packing specialist from Japan lit a candle and a hush fell over the crowd as he put your CDs into the finest gold-lined box that money can buy.
We all had a wonderful celebration afterwards and the whole party marched down the street to the post office where the entire town of Portland waved 'Bon Voyage!' to your package, on its way to you, in our private CD Baby jet on this day, Sunday, December 11th.
I hope you had a wonderful time shopping at CD Baby. We sure did.
Your picture is on our wall as "Customer of the Year". We're all exhausted but can't wait for you to come back to CDBABY.COM!!
Thank you once again,
Derek Sivers, president, CD Baby
He spent 20 minutes writing this masterpiece and it exploded on the internet. This content got forwarded thousands of times, CD Baby got gazillions backlinks and new customers.
Takeaway: Differentiate your e-mail marketing strategy or copywriting efforts. Sometimes it is as easy as to put a smile on your customers' faces.
#15 Shazam
What do you do when you Shazam a song?
You try to suck up all sound from the music and Shazam does something quite ingenious at that moment. It encourages you to hold your phone up to speakers.
And this move gets everyone curious like "Why the hell is she lifting her phone to the speakers?". So yes, this is nothing but a word-of-mouth marketing strategy at its best.
It's not possible to measure the analytics or conversion rate but over 1 billion downloads says something.
#16 Tiger King
The Tiger King docuseries on Netflix have reached super-hyped status. One of the protagonists is called Joe Exotic, he is a sympathetic bad guy. But I was not aware that he's a badass growth hacker too.
Joe Exotic imitated his archenemy and biggest competitor by renaming his tiger show. 
Just to add context if you don't know the show. 
Joe Exotic keeps more than 200 tigers in his wildlife park. On the other hand, there is that lady (Carole Baskin) who is catter than cats and trying to save tigers under the banner of Big Cat Rescue. And they're trying to sabotage each other, all the time.
So to get more visibility to his tiger show and steal Carole's audience, Joe Exotic started a new show under the name"Big Cat Rescue Entertainment".
In the end, Carole sued Joe and got a nearly $1M settlement.
Now, this obviously is not ethical and can hurt your reputation, I'm not suggesting you do the same. But this case can inspire you to be creative with your brand name. It could be interesting to include terms that people are already searching for.
#17 Crimibox
Crimibox is an online interactive detective game that lets you become a Sherlock of your case (they're also one of our favorite customers <3).
 We prepared a FB chatbot quiz themed "Which detective is hidden inside". 
The assumption: If they are interested in knowing which kind of detective they are, they are potentially also interested in solving a murder case.
We asked several questions in a chatbot and helped them find out their inner detective. At the end of the quiz, we offer them to solve a murder case and direct them to the crime scene. This scene was Kickstarter.
Crimibox increased its subscriber number from 2K to 10K in 15 days and successfully launched on Kickstarter!
Why did it work?
It was super targeted.

We made the quiz personal. People always fall for personality quizzes.
#18 Fortnite
Fortnite growth hacking strategy has changed the way of marketing around games forever.
 Here is the default strategy of every game until the Fornite era.
Make the game.

Spend millions of dollars to promote like crazy in conferences and ads of all sorts.

Launch the game, do the grand slam, collect the money and sail for the next game.
That's why we see a new Call of Duty, Battlefield and similar games each year.
Well, Fortnite was not even popular in its first year but they found ways to retain their existing customer base with three tactics.
The game was completely free. 

 Huge in-game updates, which they called "Seasons".
 Every ten weeks, developers brought new mechanics, weapons, maps, characters and so on into the game. They announce these seasons with trailers and encourage gamers to create hype.
So if you're a Fortnite player, you'll know, every ten weeks you'll have a new game to play.
3.  Limited-time game mods
They regularly launched new game modes for a limited time to create FOMO. And gamers kept coming back to not to miss this one-time experience.
Meanwhile, they monetized the game by selling in-game items like character and weapon skins or dance moves. 
In a very short time, they acquired a huge fan base and created their own celebrity streamers. The rest is history.
Takeaway: Acquisition is often an overrated aspect of marketing. In growth marketing, it's equally important to keep your current customers happy and transform them into your fans. (Focus on retention) 
#19 Uber
How could a brand single-handedly take down the traditional  taxi business? By knowing the enemy and the customer.
Hailing a cab after a night out is a pain in the ass, likewise in bad weather conditions. Uber knew that, and at the beginning, they focused on these key events.
They also picked a subtle fight with yellow cabs by highlighting the areas where Uber excels like; easy payment, lower prices and no more taxi-hailing.
People that were using the service were coming back, so they offered a $20 free ride to the new users to lure them in. After that, things went very fast, now we look at taxis like they're an endangered animal.
Takeaway: There is always room to fit in with your product and outsmart the competition. Understand your competitors, customers and the environment to come up with smart tactics.
Aaaand the best growth hacking strategy awards goes to!
I hope you got some inspiration to fuel your next growth marketing campaign from this list of beautifuel (no typo, wordplay) growth hacks.
Do you know what I think? I think you can also read our "Marketing trends to watch in 2020″ article". It's essential to know about the trends to create innovative growth hacks.
On top of that, you can find the growth hacking tools we frequently use in the same article — 1 article 2 birds.
Which growth hacking examples did you like the best, who gets you a gold growth award? Let me know in the comments!
Go growth hacker.